*Preview – New module coming Q4 2022*
Manage:
Lead your client's digital transformation
Across organizations, IT Managers share between 80-90% common responsibilities. Our process covers all key aspects that IT Managers should be responsible for in a systematic methodology.
Create new MRR agreements for those clients that want ongoing IT advice and IT governance.
We've broken down the role of an IT Manager / CIO and given you the means to build a MRR agreement for your clients, quote it, and schedule, along with rich guides and templates to help you execute.
You can even push the work into ConnectWise and manage the delivery using tools you are familar with. (requires a Premium subscription.)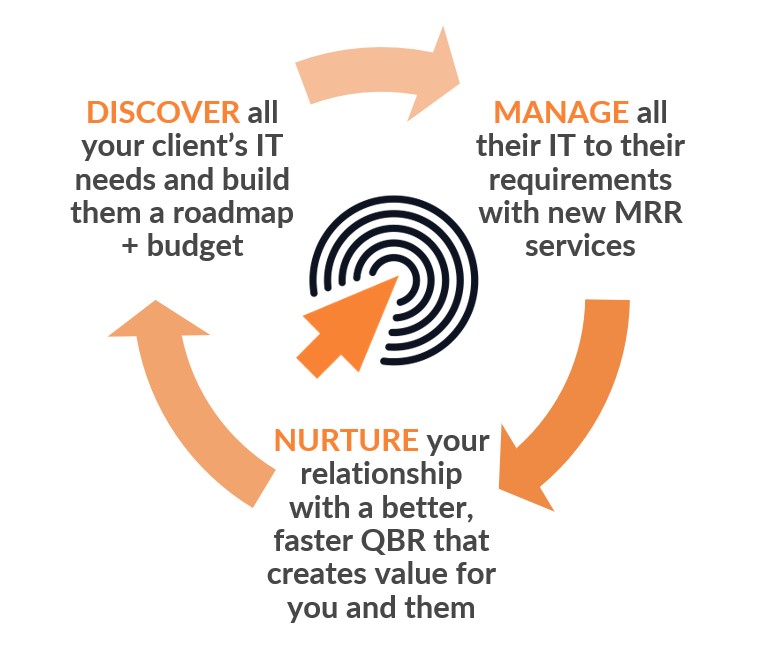 Let's Talk Benefits:
Boost your offerings with scalable services that don't depend on traditional IT support services.
Develop new IT strategies, define new goals for growth and ensure security and compliance.
Secure premium services that support ongoing IT management, from strategy and budgeting to internal staff management and data governance.
Built from real IT Manager & CIO job descriptions and role accountabilities, our ITMAAS system is THE answer to scalable, consistent, high-quality vCIO delivery.
GetKambium tells your consulting team what to do, when it needs to be done,and gives you the tools and templates you need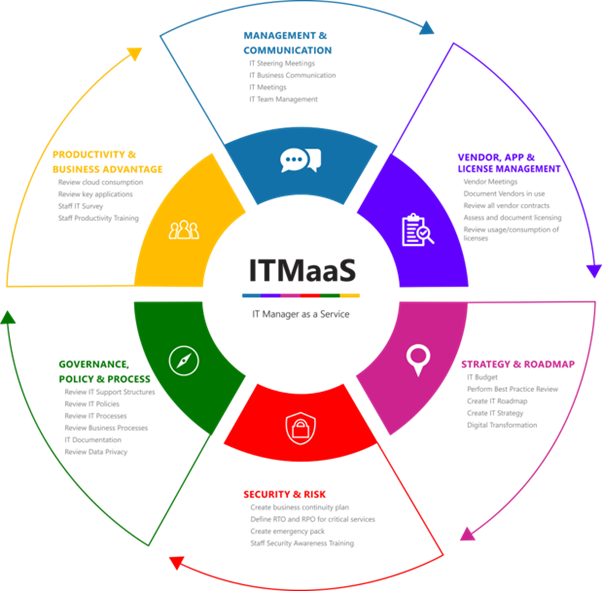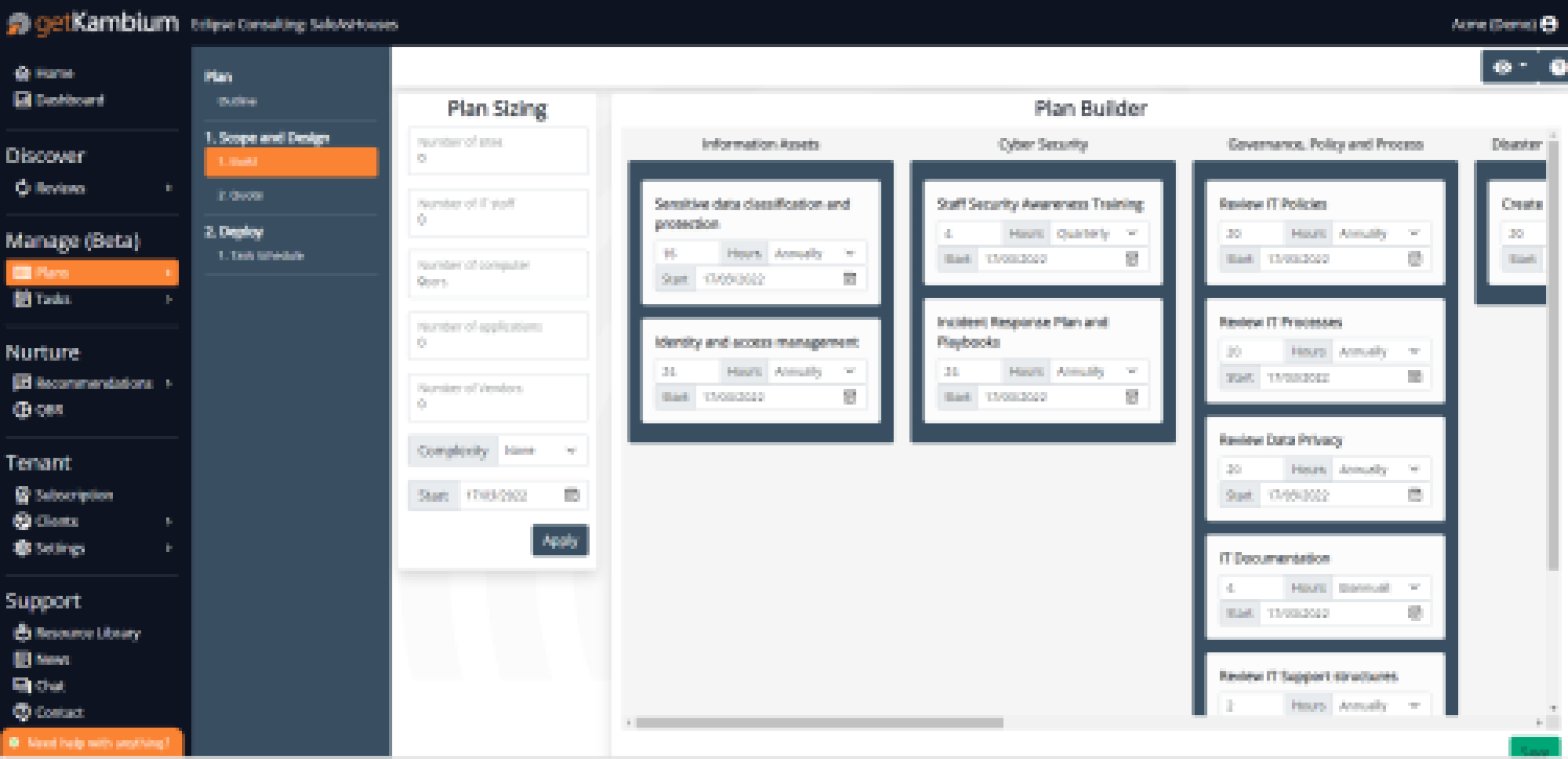 Prepackaged vCISO Plans
Manage provides prepackaged plans for vCISO or general IT Manager as a Service (vCIO) based on the typical job description of IT Managers. Exports to Kambium Task Manager.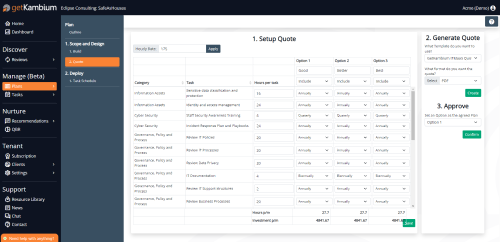 Quoting Tool
The quoting tool lets you quickly size an engagement and provide a choice of good/better/best pricing and engagement plans. Content generated in PDF.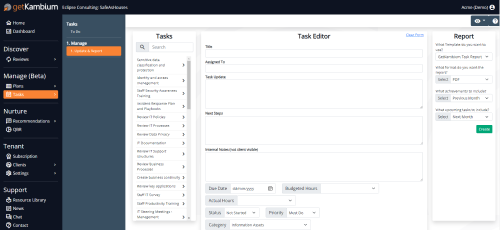 Workflow Manager
The workflow manager helps you map and plan for upcoming workload so you consistently meet your ITMaaS obligations. Reports generated in PDF.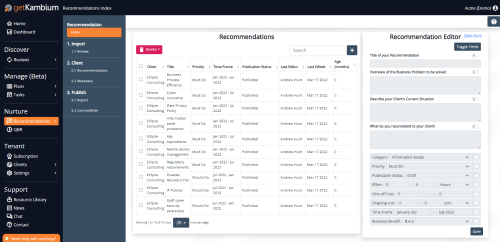 Recommendation Database
Keep track of and manage manage all recommendations given to the client in a central database so you never miss an opportunity.
"I'm delighted with our relationship with getKambium. The team has been very supportive, and I highly recommend them to anybody who is considering raising the bar in the connections that they have with the businesses they support"
DEAN CALVERT – CALVERT TECHNOLOGIES 
Premium Edition
The Premium Edition of getKambium is multi-user, letting you share content between users in the same tenancy at no additional cost.
Guided Tasks
Each task comes with instructions and templates to assist your consulting team to deliver their work obligations quickly and easily.
Export to ConnectWise & MS Planner
GetKambium lets you work the way you need, with exporting of forward workload tasks to ConnectWise or Microsoft Planner.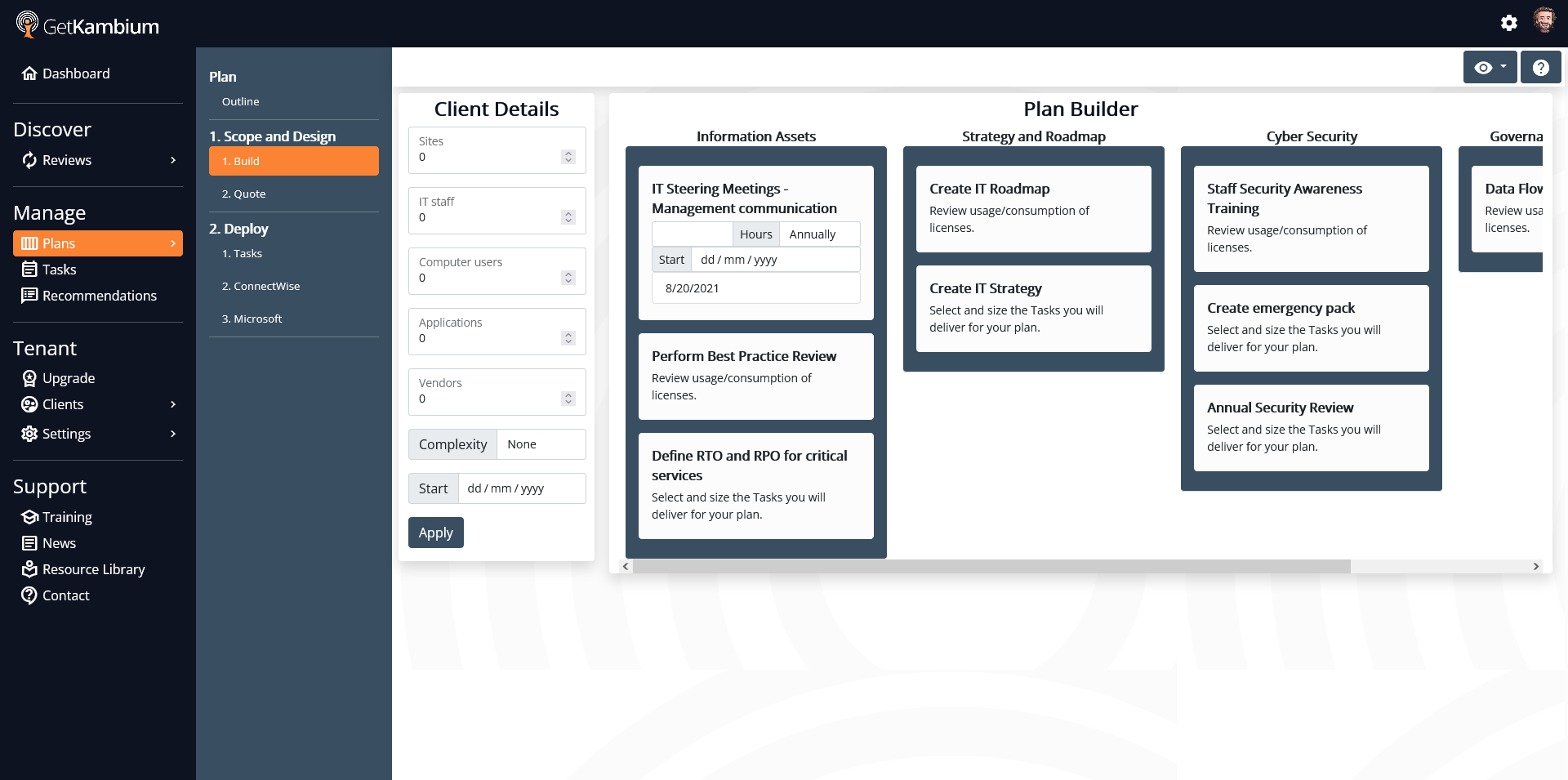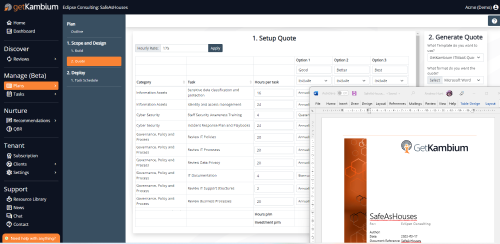 Export Quotes in MS-Word
Quoting Tool content generated in MS-Word ready to include in your sales proposals
MS-Word Workflow Manager Reports
Export reports from Workflow Manager in MS-Word for full customization with your brand assets.
GetKambium Premium uses a simple, no surprises subscription pricing structure, no matter your business size.
All Premium subscriptions include a 14 day free trial period.
US$450
per month
Includes 3 user licenses
US$590
per month
Includes 10 user licenses
US$850
per month
Includes 25 user licenses
POA
per month
Over 25 user licenses