Put the BUSINESS into your QBRs
If you want your QBR to be more than a technology dashboard.
If you want your QBR to cover the BUSINESS value you are delivering… then you need to add getKambium to your QBR.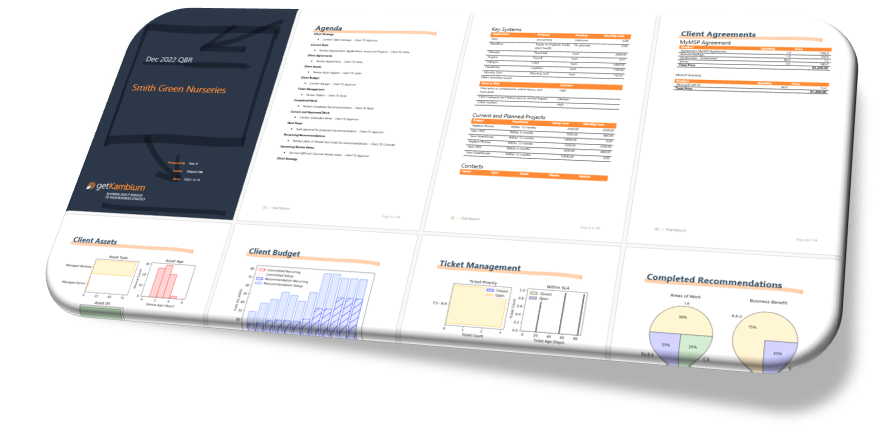 Are your QBRs part of your sales process?
Do you want your QBRs to progress your roadmap with your client?
Do you want your QBRs to connect with your client's leadership? 
The 1-2-3 of Strategic Sales Engagement:
1.   DISCOVER finds what your client needs from their IT to deliver their business goals.
2.   DELIVER presents the roadmap as business technology plan.
3.   NURTURE QBRs tracks progress of the plan, celebrates the successes and advances the next steps of the business plan
Just add strategy:  Most of our subscribers use getKambium QBRs to lead the business conversation, alongside their choice of operational technology dashboard report.
Prove your value to your clients.
Prove the value you give your client while getting agreement for new projects from their IT roadmap with deliberate, purposeful QBRs. 
Formalize client check-ins and keep your relationship focused on the thing that matters most to your client – helping them create enterprise value. Our QBRs are quick and easy to produce, purposeful and create value for you, and your client.
Valuable for the client's C-level execs, by showing how the MSP is delivering the roadmap to meet their business goals
Back-end workflows enable QBRs to be prepared in minutes
Compliments regular technology reviews, works alongside other QBR tools, optionally pulls ticket & asset information pulled from ConnectWise
Single platform to manage the customer lifecycle from pre-sales to retention
The answer to amazing QBRs is starting with the end in mind. 
It needs to consider what the client is asking for.  
Has my MSP got my back? 
Can I rely on my MSP to look after my IT investment?
Does my MSP know what I want to achieve?
How are they delivering that?
Clients are different!
Some want all the detail, others only want the highlights.
Imagine a solution that
Brings your client's strategic roadmap together so your QBR is a 'check-in' on progress
Lets you include and exclude sections, dynamically refreshing the QBR agenda, and lets you hold QBR templates for large clients, small clients, cloud-only clients or any other client set.
Has purpose to each section and builds minutes and actions to ensure the QBR is more than a 'check-in' – it facilitates client decisions
Reviews your sales opportunities with your clients, so they approve your proposals faster
Lets you add your favorite specialist reports from your favorite third party MSP tools
Amazing QBRs with getKambium
Easy to use.  Fast to create.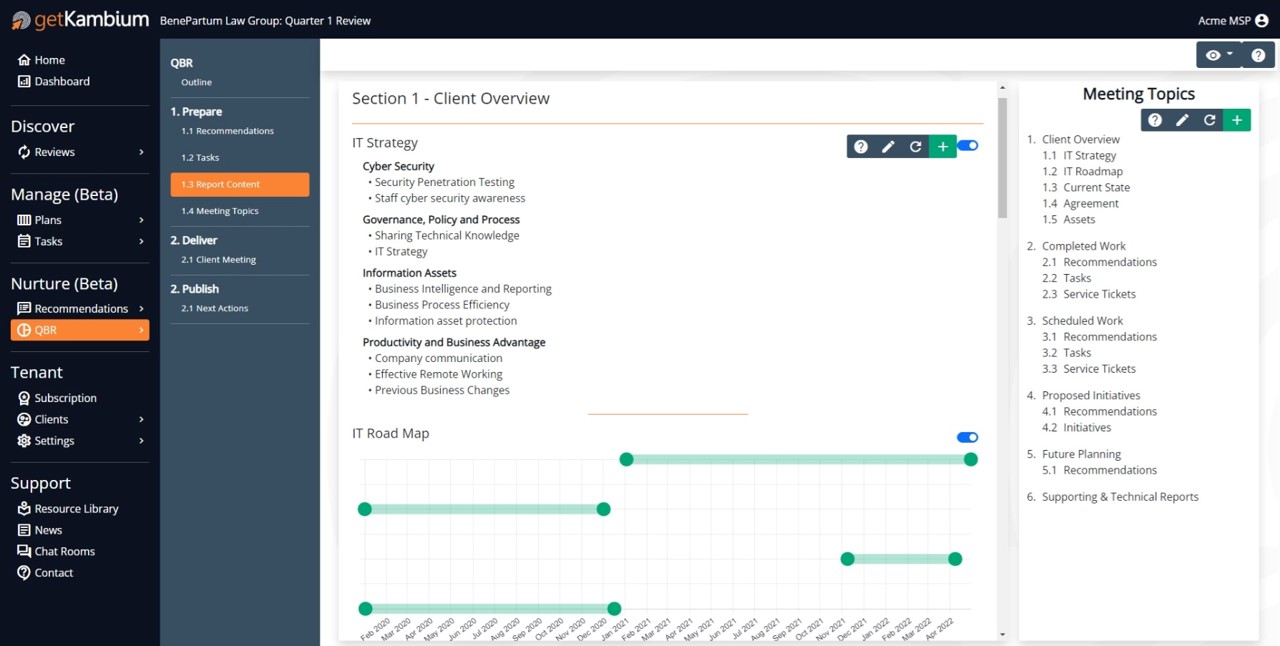 Set the Agenda
Choose what is to be discussed – taking a starting point from your getKambium planning tool.
Begin with the agreed roadmap, taken from the getKambium DISCOVER module to frame your QBR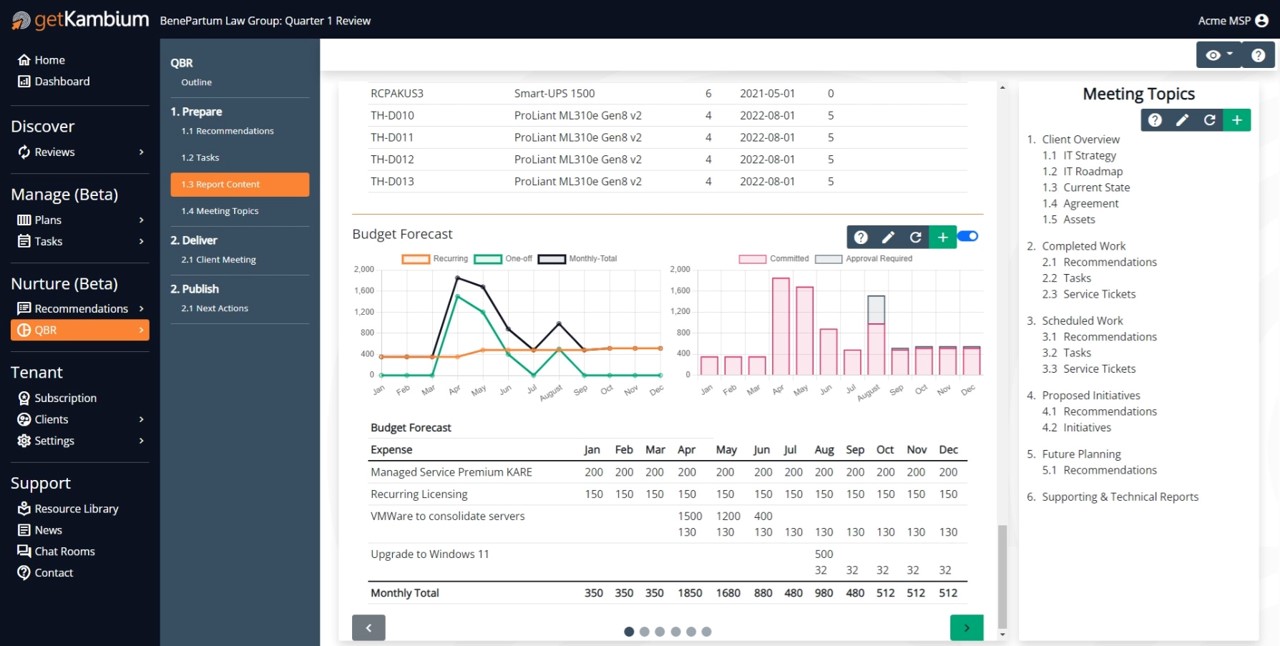 Clear budgeting and cost projections
Show your client their IT budget, from committed costs to the impact of your recommended initiatives.  Clearly show operating and capital costs to make sure you have alignment with your client.  getKambium automatically builds your budgetting from data in the roadmap and ConnectWise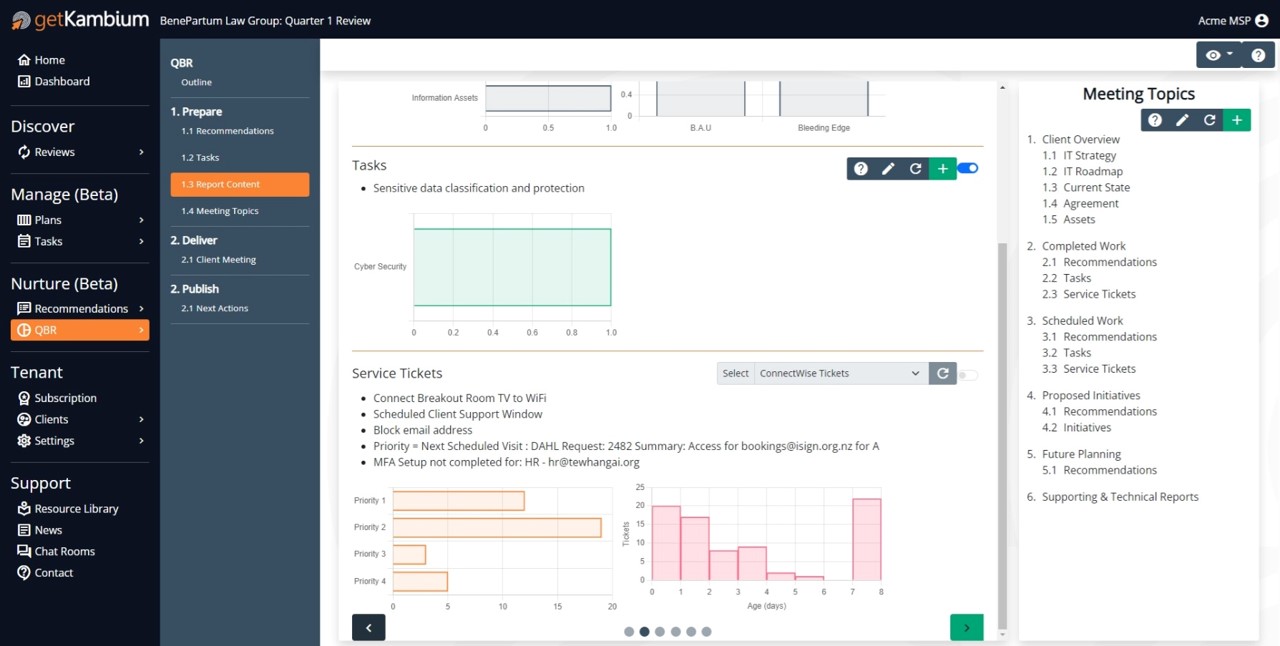 SLA reporting
Easily import your service level data from Connectwise (with premium subsription) or your preferred 3rd party application. 
Review the key roadmap projects already undertaken and service performance over the last quarter,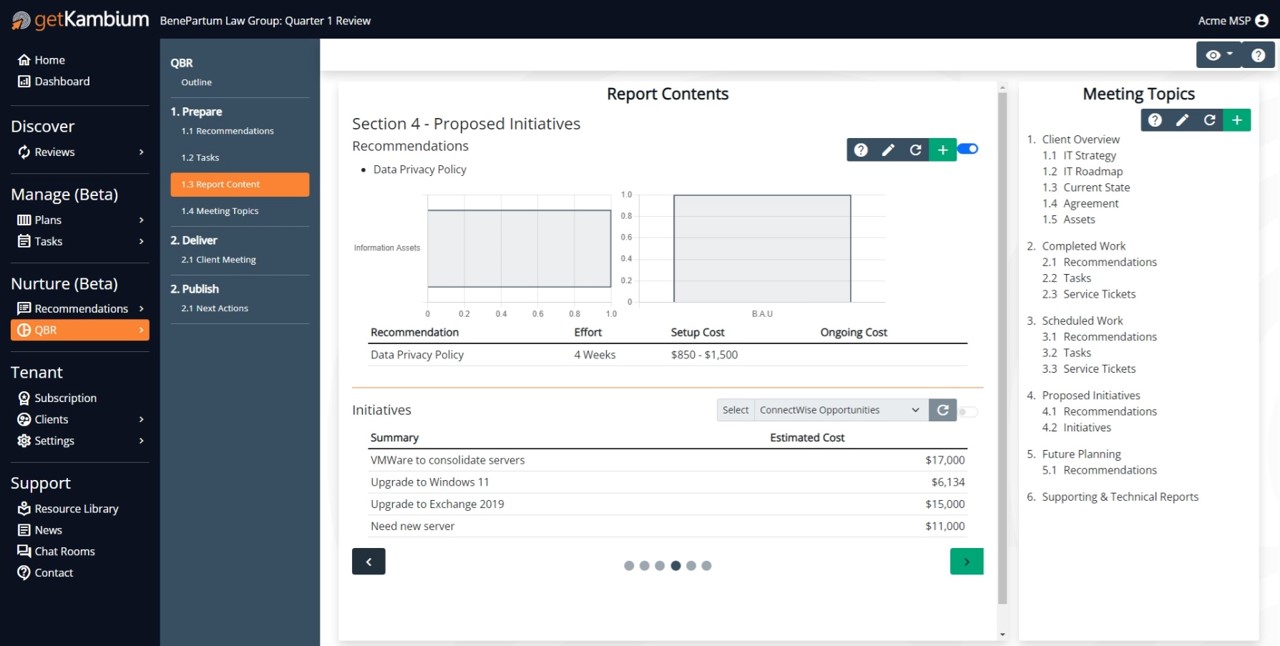 Drive revenue
Clearly identify and focus on forward looking initiatives that your clients need and will value.  The getKambium process reminds your client of your recommended initiatives and why they are important, and even better, it leads to the client decision.
Every step of the QBR has a purpose and getKambium takes you and the client through step by step to make sure the QBR delivers value for you, and your client, and futhers your valuable partnership together.
See for yourself
See what you can create in minutes when you sign up to getKambium FOR FREE!
These high value client reports are easy to populate with getKambium's step-by-step process. Download a sample QBR, Security Review, Sales Discovery Report or Business Technology Review (for Execs).
See the power of getKambium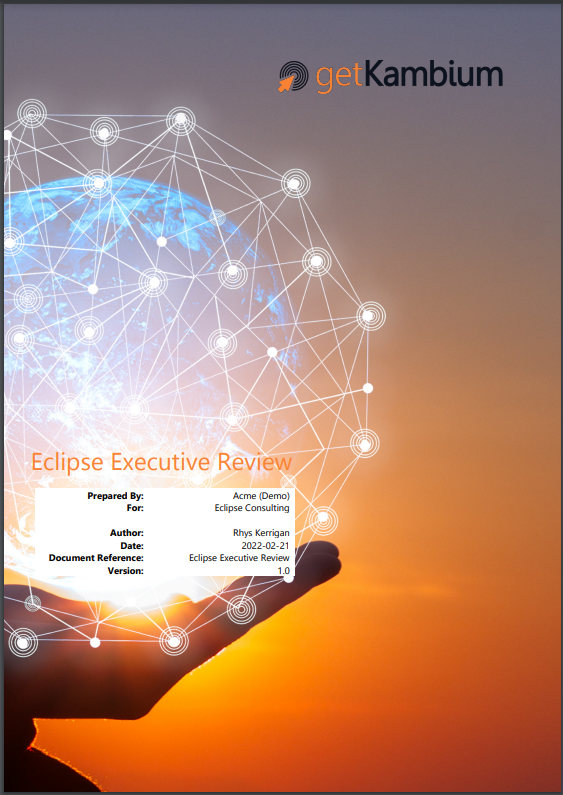 Having interviewed the client and set a baseline, it is then incredibly easy to prepare for those regular meetings with customers (QBR etc.). The key to this is synchronization with ConnectWise. The ability to pull in ticket information and adjust what the customer sees moving forward is great. What makes it even better is the ability to home in on just the items that need attention.