Discover :
Talk business to your clients, not just IT.
A Business Technology Review tool like no other.
DISCOVER is a framework that captures business needs and then aligns IT to solve them.  getKambium translates that need into executable work for your MSP.
DISCOVER makes it easy for you to co-innovate with your client to find out what they need, auto-populate it into a rich strategic roadmap, and quickly publish it as an annual key account plan… all in a fast, repeatable process.
DISCOVER makes selling your services easy by finding out what your client really needs, why they need it,  and framing it in their context to create qualified sales opportunities.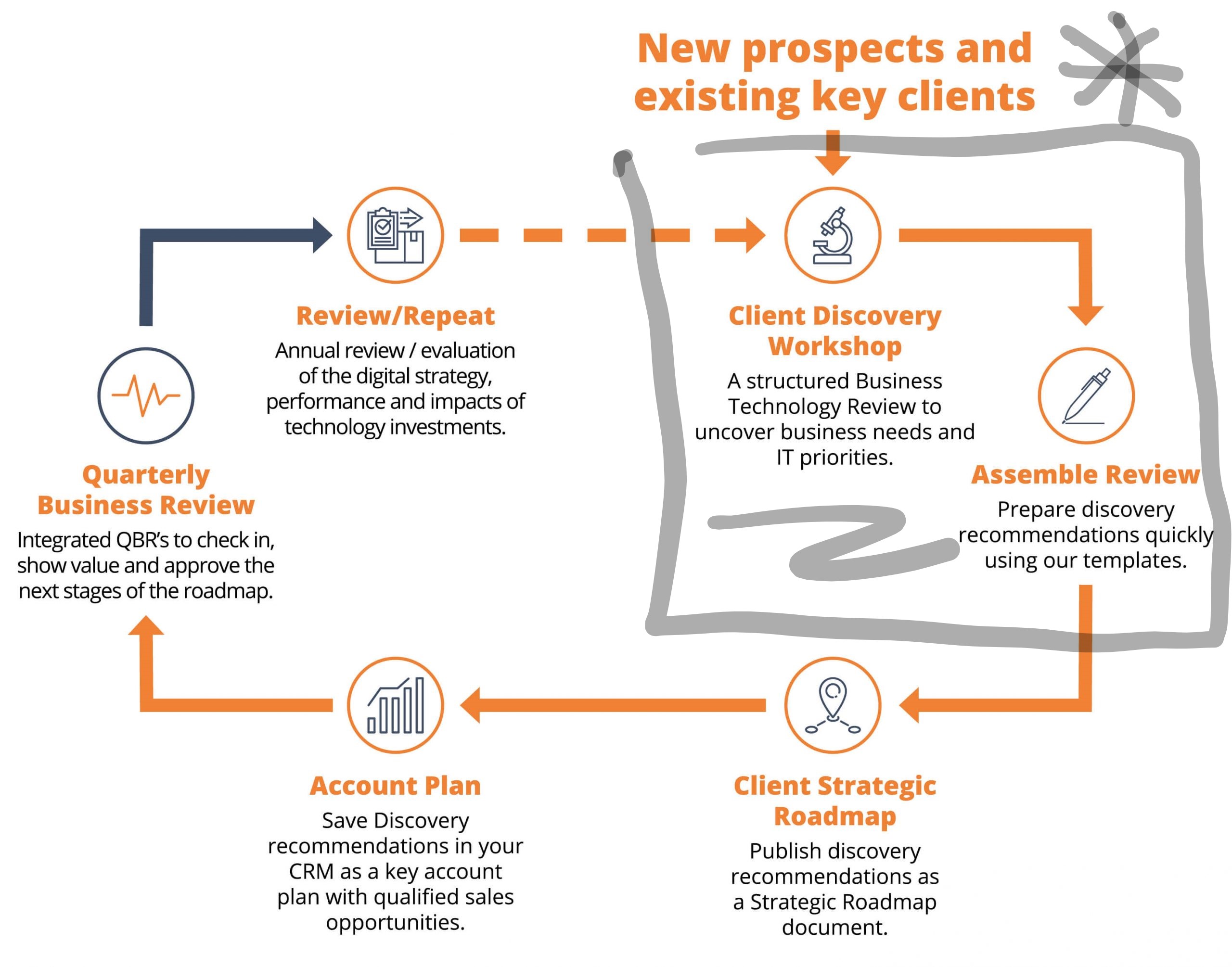 Leads MSPs to ASK THE RIGHT QUESTIONS and have business conversations about technology
Systemize the sales process to match the rest of the business – show clients your MSP is structured and systemized
Questions and templates included, customizable by the MSP
Recommendation library/editor aligns the MSP services/stack to clients' business need
Prepackaged Discovery Bundles
Discovery comes with up to 140 prepacked questions designed to help you explore your client's requirements, including guidance about the purpose and framing of each question.
With Free Edition you get pre-packaged discovery bundles for:
Can you help your clients answer key questions like:
1. Are they meeting obligations to shareholders/stakeholders?
2. Are the appropriate IT Governance controls in place to protect business value?
3. IT is more than silicon – have they stress-tested the human side of your I.T?
4. Are they maximising their technology investment?
5. Who really controls their IT systems and data?
6. Do they have an appropriate Data Privacy Policy?
7. Do they have the right relationship with their IT provider?
8. Is the IT strategy meeting their business needs?
9. Are staff their biggest security risk?
10. Is the organisation doing enough to get the cyber-security cost/risk balance right?
Sales discovery
Explore key priorities and the IT initiatives for the MSP to record as sales opportunities.
Security discovery
Explore the cyber security risk profile of your customer, and understand their tolerance and appetite for risk, their key exposures and obligations.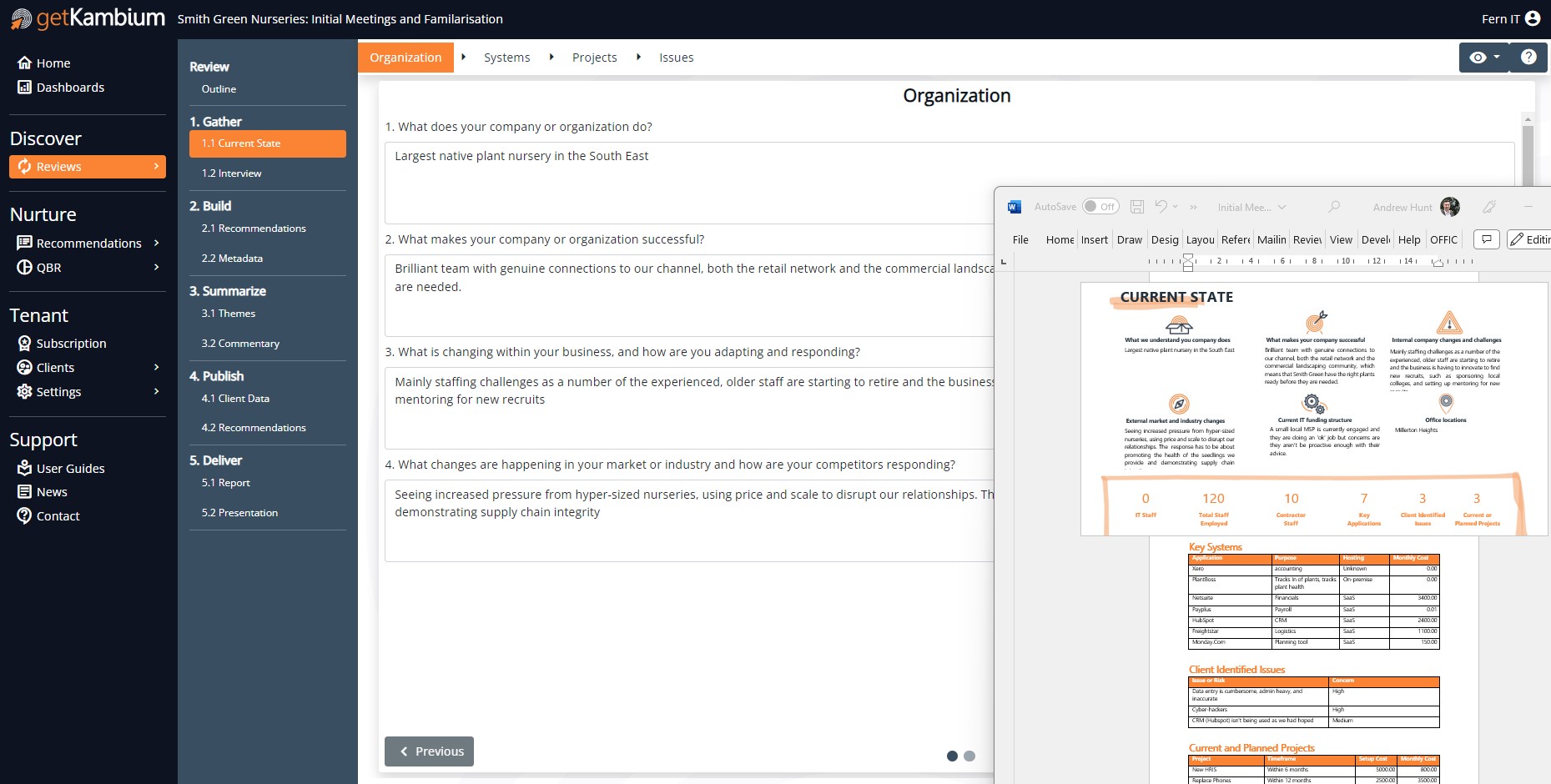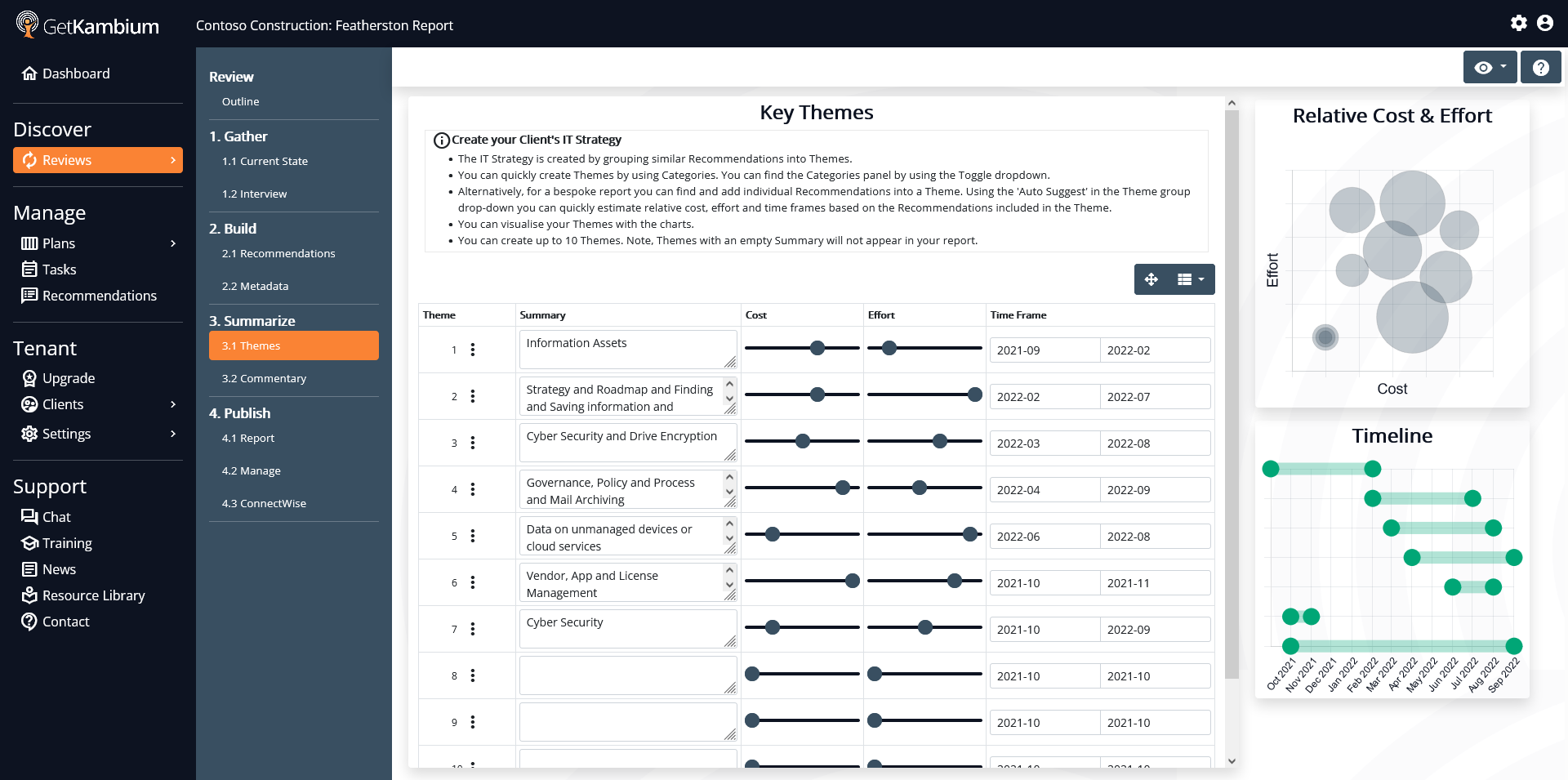 Strategy discovery
Gain full understanding of your client's current situation and their strategic priorities to achieve their goals and mitigate their risks. Uncover the client's priorities and work with the client to build a plan to achieve these, including against timelines and budgets.
Create your own
getKambium even makes it easy to create your own questionnaires. 
If your MSP has its own 'secret sauce' or questions that are specific to a vertical market, you cna easily create your own discovery questionnaires.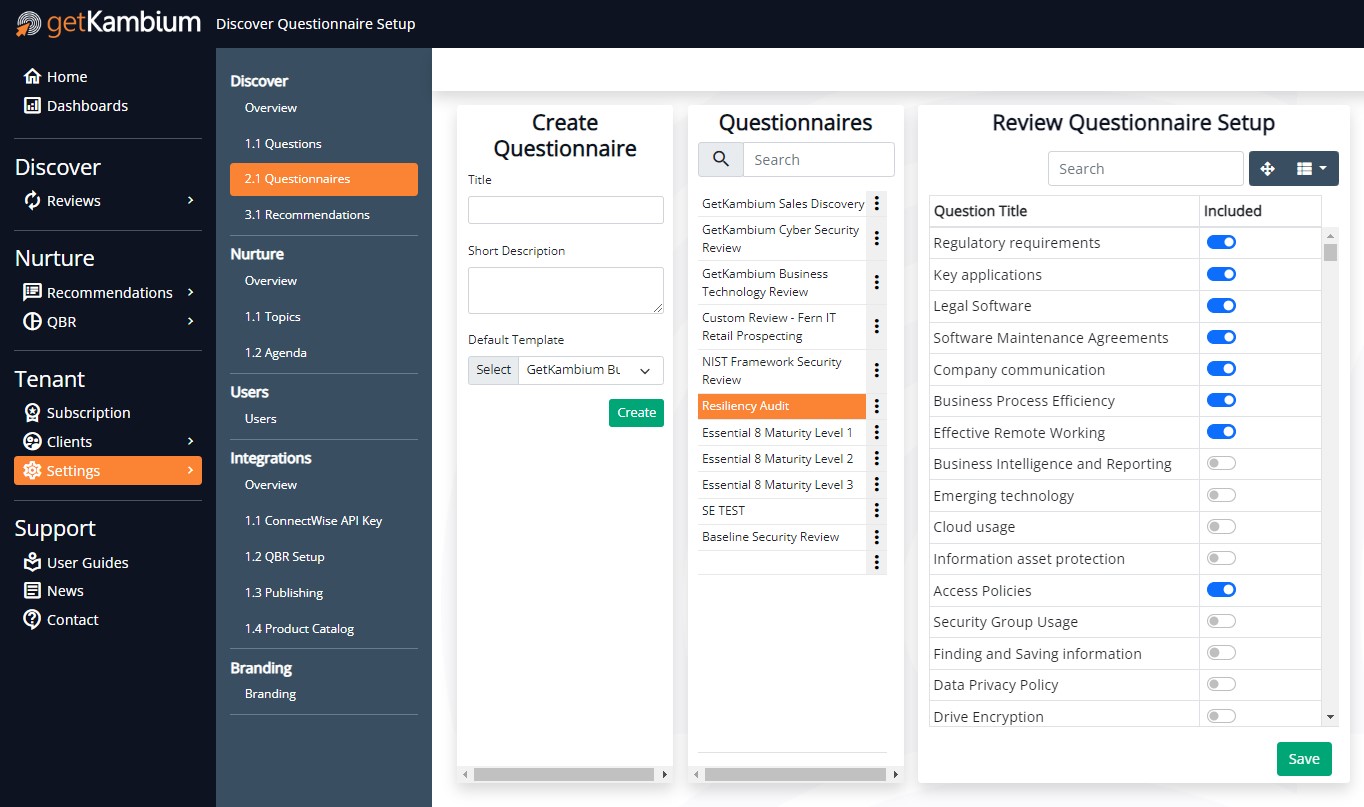 "Our customers are stickier now than they've ever been.
Their engagement with us has deepened and their reliance on us has deepened as well.
Where we were once viewed as the 'fixers' or the people who just fix technological problems, we're now having very different conversations when people have a business problem"
AARON SMITH, CORRECT SOLUTIONS
Now all of your customer engagement team can do strategic sales alignment,  and talk business with clients.
GetKambium Premium uses a simple, no surprises subscription pricing structure, no matter your business size.
All Premium susbcriptions include a 14 day free trial period.
US$149
per month
Single user license
US$450
per month
Includes 5 user licenses
US$590
per month
Includes 10 user licenses
US$850
per month
Includes 25 user licenses
POA
per month
Over 25 user licenses