The
 

1-2-3 of Strategic Sales Engagement:

1.   DISCOVER – ask the right questions to find what your client needs from their IT to deliver their business goals.

2.   DELIVER – make the right recommendations to present the roadmap as business technology plan.

3.   NURTURE QBRs – win more business with QBRs that track progress of the plan, celebrate the successes and advance the next steps of the business plan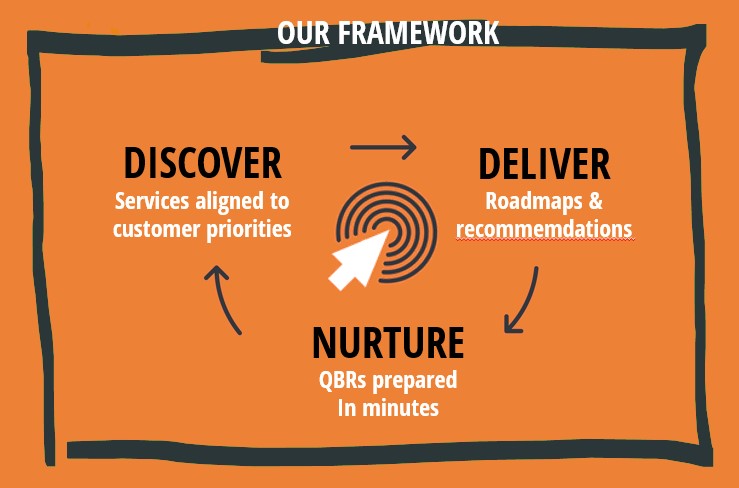 Just as MSPs systemized their service delivery,
mature TSPs want to systemize their sales process/client engagement.
Discover

Nurture

e

DISCOVER

DELIVER

QBR

Pre-packaged discovery bundles for:

Sales discovery – to explore key priorities and the IT initiatives for the MSP to record as sales opportunities
Security discovery – to explore the cyber security risk profile of your customer, and understand their tolerance and appetite for risk, their key exposures and obligations
Strategy discovery – to fully understand the current situation of your client, and their strategic priorities to achieve their goals and mitigate their risks.  To understand their priorities against those initiatives and build out a plan to achieve these with the client, against timelines and budgets

Compelling roadmap documents for clients including

overview and themese
proposed timelines
budget summary
detailed recommedations

Presents roadmap, and related opportunities from ConnectWise so you can get approval to progress the client's planned initiatives

Selectable content from your discovery roadmap

Activities from the last quarter and those for the next quarter so you can demonstrate progress to your client

Presents device lists, and subject to availability, warranty information to help you manage client asset life cycles

Presents ticket and SLA data from ConnectWise

Presents device lists, and subject to availability, warranty information to help you manage client asset life cycles

Summarises current agreements from ConnectWise

Third party reports and include your favorite operational technology dashboard

Create your own custom discovery sets by bundling our content and your own into packages (e.g. to suit your vertical markets)
Optionally: Draw solutuions from your ConnectWise Product Catalog

Includes a pre-drafted executive summary ready for you to edit.

Up to 140 prepacked discovery questions to help you explore your client's requirements, including guidance about the purpose and framing of each question
Report available in MS-Word format, using your branding, logos, colours and fonts)

Reporting in MS-Word, customized with your branding including logos, fonts and colours

Add your own custom question content
Auto-creates a PDF report for you to share with your client
Customizable meeting agenda and plan
Pre-prepared recommendations to accelerate your response and preparation of your reports, or write your own unique recommendations
Optionally: export recommendations to ConnectWise
Record actions and send minutes after the meeting
Save your own recommendations as new standard responses for your unique frequent solutions
General

All versions

5+ user versions   

Extensive online help
Multi-user (can share content between users in the same tenancy) including external sales coaches.
Regular webinars to keep your users in touch with the tools and fresh in their application to achieve best-practice results
"When you narrow it down, the biggest challenge facing our industry is "How do we become important to our clients again?"
In theory it is quite simple, change the conversation from what you want to talk about to one your client wants to talk about – "It's about the business stupid!"
Am I making sense? If you say yes, GetKambium can help, if you feel no, GetKambium can still help!"
GetKambium if you want to change the conversation you are having with your clients.
– Ally Hollins-Kirk, Onestop IT
GetKambium Premium uses a simple, no surprises subscription pricing structure, no matter your business size.
All Premium subscriptions include a 14 day free trial period.
US$149
per month
Single user license
US$450
per month
Includes 5 user licenses
US$590
per month
Includes 10 user licenses
US$850
per month
Includes 25 user licenses
POA
per month
Over 25 user licenses
To see if GetKambium is right for you, sign up for free now