Accelerate Sales – Shorten sales cycles
Selling is a thousand times easier if your clients want to buy your product or service
Use getKambium to quickly find out what your clients need, create a roadmap for them and a key account plan – quickly, easily, and well.
getKambium makes it easy to win:
01
________________
Differentiate yourself from other MSPs with current and new clients by showing you have a structured process from your first engagement
02
________________
Build stronger relationships, by talking business needs with your clients, using getKambium to translate that into IT priorities
03
________________
Win more business because now you know what your clients want and need, why they need it, and when they need it
What makes getKambium different?
getKambium uncovers your client's needs from their point of view, creates a strategic IT plan for their business, and uses purposeful QBRs to drive execution and success for you and your client.
getKambium DISCOVER uncovers their needs, qualifies them and publishes the opportunities into ConnectWise Manage.

Learn the depth and breadth of your clients' needs and reframe these as a costed road-map, and sales opportunities.

You can even create your own DISCOVERY sets with a PREMIUM subscription.
Get better insights for higher-value deals
High-value deals start with high-value conversations.
To successfully elevate the conversations you have with your clients you'll need deep insight into your customers' business needs and challenges.
With Sales Discovery, GetKambium gives you the tools you need to get to grips with your customers' real business drivers, so you can create deals that address your clients' problems and deliver them valuable opportunities.
DISCOVERY sets for every scenario:
With getKambium's Sales Discovery your sales team will be able to demonstrate their credibility and develop qualified leads from customers in less than an hour with just 12 questions. Drill in deeper with our 50 point security and compliance DISCOVERY to uncover your client's cyber-security risk profile, or dig deeper still to review their broader business strategy and needs with the 140 question business DISCOVERY. With our Premium edition, you can even create your own questions and DISOVERY sets.
Amazing QBRs that nurture your client relationships
If you want your QBR to be more than a technology dashboard,
If you want your QBR to cover the BUSINESS value you are delivering
then you need to add getKambium to your QBR.
QBRs need to add value to your business and your client's.  More than SLAs and tickets, value comes from tracking progress against the roadmap, and moving ahead on the opportunities you have already identified in the DISCOVERY.
What does your customer need?
Information about their current state
Roadmap update : where they are going and how they are tracking from their DISCOVERY roadmap
The decisions they need to make now
What do you need?
Great QBRs that are quick to generate
Great QBRs that your clients value and want to attend
Great QBRs that help you progress your client relationship and advance your sales pipeline
Win more business by discovering your clients 'what', 'why' and 'when'
Know what is important to your client because you asked them!
Sales Discovery
With the Discovery review process, you have a repeatable framework of questions and recommendations to help you gain a deep understanding of your client's business and deliver high-value recommendations.  Create polished, professional summaries to prospects that clearly identify their business needs and how you can address them.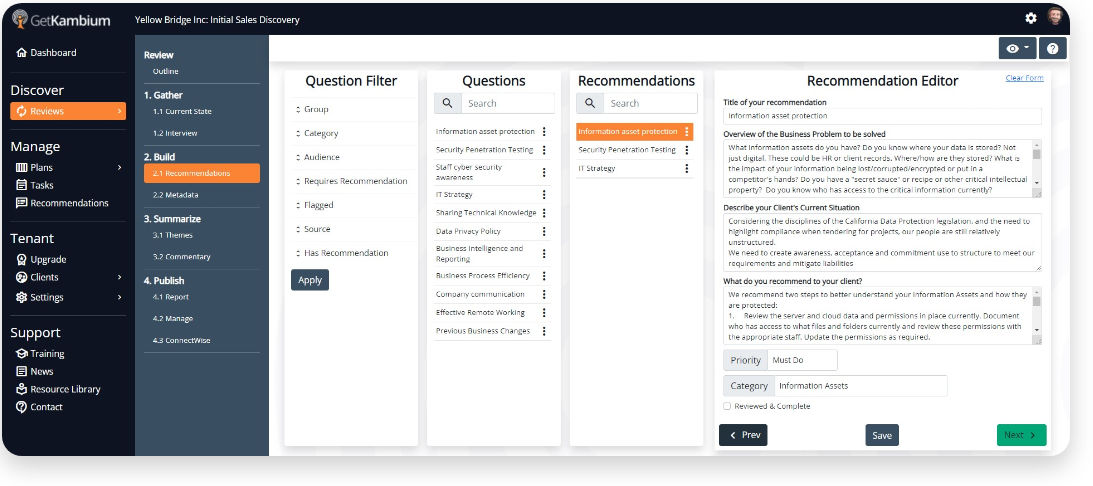 Discover
Prepackaged discovery questions help you map your client's requirements, including guidance about the purpose and framing of each question so you can quickly unearth key priorities
Convert
By understanding the customers' real priorities every opportunity you uncover becomes a qualified sales opportunity complete with timelines and budgets
Recommend
Use pre-prepared recommendations to streamline your proposal process
Propose
Make more immediate connection with decision makers in your customer with high-quality proposals using auto-created PDF reports
With getKambium Premium you can also
Add your own custom questions to fine tune your Discovery process based on your experience with your clients
Create your own custom discovery sets by bundling our content and yours into packages designed for specific customer types
Save your recommendations as new standard responses for your own customized solutions
Customize report  formats in MS-Word format, using your branding, logos, colours and fonts
Export recommendations to ConnectWise as sales opportunities.