We want to make it even easier for every MSP client to have a technology roadmap, an account plan, and for everyone to see where their sales quoe is coming from.  
This month's enhancements include:
1. It is easier to maintain questions and questionnaires.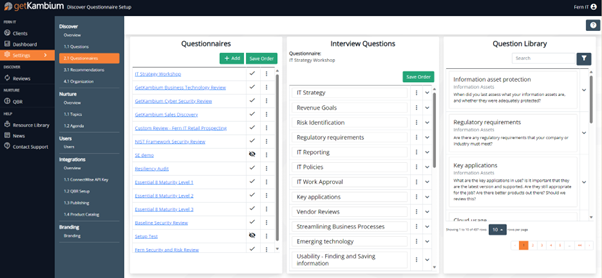 You can now easily re-order the questionnaires, for example to put the ones you use most often at the top of the list. You can hide older questionnaires by marking them as inactive, and that's as simple as clicking on the ellipsis (the three vertical buttons next to the questionnaire.)
We're made it much easier to find the questions you want to include in different questionnaires, and to reorder the questions within a questionnaire. This gives the MSP the method to create a logical path, for example starting at bigger, more open questions, before you get more specific, or to group questions together logically.
2. The interview screen is cleaner.
We've added a navigation bar to help you quickly identify the questions that have, and haven't, been answered already. Don't forget that you can also go full screen by clicking on the screen icon in the top right.
3. We've renamed 'Metadata' to 'Roadmap'
After all, that's what this screen is all about. It is where you take the interview and make recommendations to propose an IT solution.
4. We've changed the order of the menu
This based on your feedback that the reality is that you present your suggested roadmap to the client, and they give you feedback – for example to:
Adjust the timing
Split some recomendations , and combine others
Change as some recommendations are less imortant now that the client can see the impact and these won't be immediate sales opportuntities, or conversely some are now more immediate and important.
The order change makes it easier to present, then alter the roadmap as agreeed, and save the revised recommendation as sales opportuntiies and an account plan.
5. Bug fix
Made a fix to correctly split annual costs evently across the year instead of repeating them every month